Description
---
Main Features |
The interface works in one direction only – it only receives MIDI data. Instrument's knobs and buttons are not transmitted as a MIDI data.
Controls the TR-808's drum sound generators and sequencer from MIDI. The instrument's drum sound parameters (control elements on panel) are not MIDI controllable.
Easy user control of the interface functions via standard MIDI commands (as well as SysEx for experts):
» Instrument's drum sound generators can be launched by MIDI Notes
» Dynamics of sound generators is driven by Velocity of the MIDI Notes
» Tempo of instrument's sequencer can be synchronized with MIDI clock
» Run of the instrument's sequencer can be controlled with MIDI Start/Continue/Stop and with the Start/Stop button on instrument panel
User programmable map of MIDI Notes to drum instruments assignment (including dynamics of particular instruments).
User programmable map of MIDI Program functions assignment (used for sequencer control).
User selectable MIDI Channel for communication
Internal memory to store the interface user settings (the instrument's drum sound parameters cannot be stored).
Original features of the instrument are not changed and the instrument can be used the same way as before the interface installation.
Easy installation without the instrument circuits modification.
The interface recognizes MIDI commands:
Note On (inc. Velocity)
Program Change
Common MIDI Synchronization (Clock, Start, Continue, Stop)
System Exclusive Messages
Default drum map:
---
Demo |
Examples of drum sounds with velocity usage.
Selected drums – BD/SD/LT/MT/HT/SR/CP/CB/CY/OH/CH:

Selected drums – BD/SD/LC/MC/HC/CL/MA/CB/CY/OH/CH:

---
Installation |
Installation of all MIDI interface parts into the instrument is easy and no problem should occur if all instructions indicated in the installation manual are kept. Please note that a complete beginner should not carry out the installation. At least basic manual dexterity and knowledge of soldering are required.
The TR808-M MIDI kit package contains all necessary parts (board, cables, coupling elements, etc.) incl. owner's and installation manuals in printed form.
Block diagram: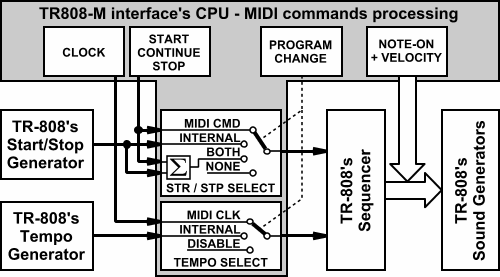 ---
Documents & SW Support |
See list of documents and support software available for download.
Note that Owner's Manual and Installation Manual in printed form are included in the product delivery.
If you have older version of TR808-M than 3.30, see archive for necessary documents and software.
---
FAQ & Troubleshooting |
Problem:
Solution:

The interface doesn't receive any MIDI data.

→

» Set SYNC swith on rear panel of TR-808 instrument to middle position.
» Use special MIDI cable delivered with the interface. The interface doesn't work with standard MIDI cable!

The device doesn't receive MIDI Notes.

→

» Check that MIDI Notes are sent on acceptable MIDI channel (channel Nr. 10 is default after Factory Reset).
» Be sure that used MIDI notes are assigned to an instrument (sound generator) of TR-808 – check instrument map of the interface.

The device cannot be synchronized with MIDI clock.

→

» Check that transmitting of MIDI Clock is enabled in your sequencer / DAW.
» Be sure that the interface is switched (with Program Change MIDI command) to program which enables receiving of MIDI clock. Only programs Nr. 2, 4, 6, 8, 10, and 12 have that possibility after Factory Reset.

Multiple instruments (drums) of TR-808 sound simultaneously, even if only one MIDI note is sent to the interface.

→

Try to calibrate D/A converter of the interface as described in installation manual.

Is there any risk if both internal and external triggers are running at the same time (i.e. external sequencing and internal sequencer running simultaneously)?

→

There is no risk. The interface is designed so that it can control the TR-808 simultaneously with the internal sequencer. If the internal sequencer is running, a drum instruments launched by MIDI Notes are added to played song.

I cannot program the interface parameters. None of the SysEx messages I'm sending change anything.

→

You have to use SysEx messages corresponding to version of your interface – check what version is your interface first. The version number is written on label of processor placed on main board of the interface:

If your version is older (i.e. other than 3.30), you can find all necessary documents and support software in archive.
---