---
We are using services of Czech Post for our products shipping. All shipments can be tracked online using the Track & Trace service. Each of consignments has its own exclusive identification number. This number will be announced to customer after the delivery consignation.
For tracking, open the Track&Trace service of Czech Post at www.postaonline.cz/en/trackandtrace:
Enter announced identification number into the [Consignment number] text field.
Click on the [Search] button.
Next window shows status of the delivery (it is available within a few hours after the delivery posting):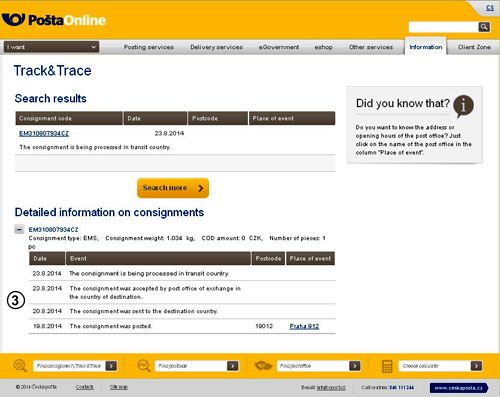 Note that only brief info is shown for the Standard Mail (ID number starting with RR…). For Registered Mail (ID number starting with CS…) and Express Mail (ID number starting with EM…), the info is full.
---
You can trace the consignment also at local post of you country. This is available a few days after the consignment despatching when it arrives to your country. Please find necessary link for the consignment tracking at website of your local post. For example:
---