Description
---
Main Features |
The programmer allows easy programming of the CR-78's user memory and to synchronize the instrument by MIDI or DIN-Sync buses.
All programmer's activities are indicated on backlighted LCD during playback as well as during programming.
The device is powered from external power supply adapter – it is not included in the delivery.
The device can operate in two working modes:
Programming mode
Selectable programming step (from 1/32 triplet to 1/1).
Numeric indication of actual programming position.
Up to 4 instruments can be inserted to the same position in one programming cycle.
Playback mode
Possibility of manual activation of a drum sound generator of the CR-78 during playback.
Manual tempo control or synchronization via MIDI or DIN-SYNC buses:
» For internal tempo generator, 25-500 BPM tempo can be chosen, Start / Stop is controlled by button
» For DIN-SYNC, 12/24/48 PPQN tempo resolution can be selected, Run / Stop commands are accepted
» For MIDI, doubled tempo can be selected, Start / Continue / Stop commands are accepted
---
Usage |
CR78-PGM is external stand-alone device. It does not need any installation.
Use standard Jack-Jack, DIN-Sync and MIDI cables for interconnection.
Connection:

MIDI and DIN-SYNC devices are optional. They does not need to be connected. Also it not necessary to use all interconnecting cables between the programmer and the instrument. For example only two Jack-Jack cables (CLOCK and START/STOP) can be connected if only MIDI synchronization for playback is necessary.
---
Programming |
CR78-PGM enables programming of the CR-78 in real time or step by step likewise as with original programmer Roland WS-1. Both methods are explained in owner's manual.
Roland WS-1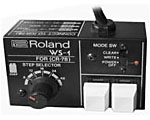 But CR78-PGM has some enhancements:
Selectable length of programming step (10 values available)
Visual indication of actual programming position (in M:B:T form)
More instruments (up to 4 inc Accent) can be written into the same position during one programming cycle
---
Documents & SW Support |
See list of documents and support software available for download.
Note that Owner's Manual in printed form is included in the product delivery.
---
FAQ & Troubleshooting |
Problem:
Solution:

What power supply adapter can I use?

→

PSU with these properties can be used:
» Output DC voltage in range from 8 to 15 Volts. It doesn't matter if output voltage of the PSU is stabilized or not. Both PSU types can be used.
» Output current 250 mA at least. Of course, the PSU ability to supply higher current is no problem – such adapter can be used too.
» Barrel type output connector, diameter 5,5 / 2,1 mm, positive pole on inner pin. Note that reverse polarity doesn't damage the device – protection circuit is inside the device.
It means that most of universal PSU can be used. No special adapter is necessary.
---