Description
---
Main Features |
MXC-56 converter enables to control DMX-512 stage lights via MIDI bus. This allows to control lights from e.g. built-in sequencers of electronic keyboard instruments (the controlled lights are fully synchronized with played song then) or manually directly from the keyboard instruments without the need of special DMX-512 compatible control panel. The converter is designed to control any DMX devices.
The converter allows to control of up to 56 outputs – DMX channels.
Each of output has independently adjustable parameters.
Possible MIDI commands for the lighting apparatus control are Note On/Off, Key Aftertouch or CC (Control Changes).
MIDI channel for MIDI communication is user selectable.
An external switches (e.g. Foot Switches) can be connected for control of functions of the converter.
All converter's activities are indicated on backlighted LCD during normal operation as well as during programming.
All functions are controlled by a user-programmable parameters that are stored in internal device memory.
All parameters are programmable manually from the device's panel so no special programming MIDI SysEx message are necessary.
The device is powered from external power supply adapter – it is not included in the delivery.
For each of controlled DMX channels, it is possible to set independently:
Default Value – default values of DMX channel after the converter reset
Conversion Curve – conversion between MIDI input and DMX output data (26 predefined curves)
Preheat – minimal value transmitted into DMX channel
Limit – limitation of maximal value transmitted into DMX channel
Accept Master – "Master" controller enabled / disabled for DMX channel control
Accept Blackout – "Blackout" function enabled / disabled for DMX channel control
The converter recognizes MIDI commands:
Note Off / On incl. Velocity (in Note and Note+Aftertouch modes only)
Key Aftertouch (in Note+Aftertouch mode only)
Standard Control Changes (ASO, ANO, RAC)
Own Control Changes (CCs) defineable by user (in CC mode only)
Common System Reset
System Exclusive Messages
---
Usage |
Connection example: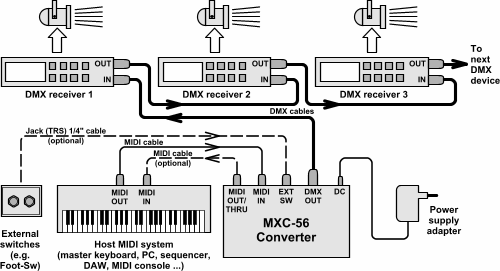 ---
Documents & SW Support |
See list of documents and support software available for download.
Note that Owner's Manual in printed form is included in the product delivery.
If you are a beginner in DMX-512, see basic info about DMX-512 standard usage.
---
FAQ |
Problem:
Solution:

What power supply adapter can I use?

→

PSU with these properties can be used:
» Output DC voltage in range from 8 to 15 Volts. It doesn't matter if output voltage of the PSU is stabilized or not. Both PSU types can be used.
» Output current 250 mA at least. Of course, the PSU ability to supply higher current is no problem – such adapter can be used too.
» Barrel type output connector, diameter 5,5 / 2,1 mm, positive pole on inner pin. Note that reverse polarity doesn't damage the device – protection circuit is inside the device.
It means that most of universal PSU can be used. No special adapter is necessary.
---