Description
---
Main Features |
The interface works in one direction only – it only receives MIDI data. Instrument's keyboard, knobs, sliders and switches are not transmitted as a MIDI data.
Controls the Poly-61's keyboard from MIDI. The instrument's tone parameters (control elements on panel) are not MIDI controllable.
The instrument's keyboard is controlled manually and by MIDI Note On/Off commands simultaneously (in parallel manner).
Easy user control of the interface parameters via MIDI CCs (as well as SysEx for experts):
» 61 MIDI Notes (5 octaves) range
» Transpose function (over whole range of MIDI Notes)
» Four modes of MIDI Notes priority can be chosen
» The instrument's DCOs can be detuned by MIDI Pitch Bend (in semitone steps only) in range 0 to ±24 semitones
» Hold pedal – CC #64 (works with MIDI Notes)
» User selectable MIDI Channel for communication
Internal memory to store the interface user settings (the instrument's tone parameters cannot be stored).
Original features of the instrument are not changed and the instrument can be used the same way as before the interface installation.
Very easy installation without the instrument circuits modification.
The interface recognizes MIDI commands:
Note On/Off
Pitch Bend
Standard CCs (Hold, ASO, ANO, RAC)
Own CCs (# 16-18)
Common System Reset
System Exclusive Messages
---
Installation |
Installation of all MIDI interface parts into the instrument is very easy and no problem should occur if all instructions indicated in the installation manual are kept. Please note that a complete beginner should not carry out the installation. At least basic manual dexterity and knowledge of soldering are required.
The P61-KBD MIDI kit package contains all necessary parts (board, cables, coupling elements, etc.) incl. owner's and installation manuals in printed form.
Block diagram: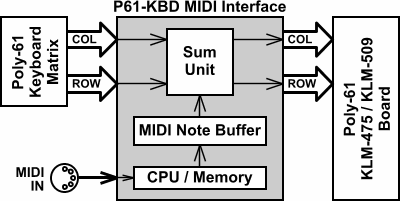 ---
Documents & SW Support |
See list of documents and support software available for download.
Note that Owner's Manual and Installation Manual in printed form are included in the product delivery.
---